A Time of Opportunity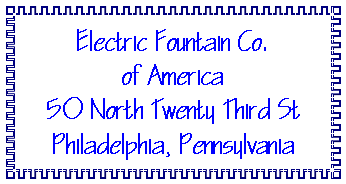 In the late 1880's, engineers were learning how to make hoists, pumps and machinery in the mines and factories work with electric motors instead of steam engines. Arc lights appeared on city streets and in public buildings. This newly harnessed force of nature was revolutionizing life around the civilized world.
A number of major public exhibitions were held to introduce the public to the wonders of the modern industrial age, including the Worlds Columbian Exposition in Chicago in 1893. They were brightly lit with arc lights and the young companies that would become the giants of the industry like Westinghouse Electric, General Electric and others were showing off their new electrical equipment.
Even before it became common in homes and offices, a forward-thinking electrical engineer by the name of F.W. Darlington used electricity to control spectacular new public fountains with changing colored lighting and animated water displays.
Amusement parks and gardens were just beginning to create the types of rides that we still enjoy today. The "gravity railway" is now known as a roller coaster and the Ferris wheel was destined to be covered in changing patterns of colored electric lights. Several of Darlington's dramatic Electric Fountains found homes in these exhibitions and amusement parks.
Amazing Sophistication
Darlington's technological innovations took fountains from simple jets of water, sometimes illuminated by gas jets, to spectacular state-of-the-art creations. Even by today's sophisticated Disney and Las Vegas standards, Darlington's creations are most impressive.
His combination of electrical remote control and arc lights with the proven technology of pneumatic (air) operated valves and color-changing mechanisms enabled a fountain show operator to be quite distant from the fountain itself. Thus the concept of the fountain show was born and it was frequently synchronized (by the human operator) with music from a live band.
Darlington seems to have been the first to place a waterproof vault in the middle of a lake to hold arc lights, air compressors and elaborate color-changing mechanisms. The fact that the Electric Fountain in City Park's Ferril Lake remains almost totally water tight in 2006 is a testament to the quality of his basic design.
Day Job / Night Job?
The first mention of F.W. Darlington as a fountain designer finds him residing in Philadelphia. During that time he worked on several east coast fountains and the Crystal Palace in London. Original blueprints from 1908 discovered in the Denver Public Library Western History Collection show that the Denver Electric Fountain was design No. 33 from the Electric Fountain Company of America, based in Philadelphia.
Interestingly enough, he is credited with being an electrical engineer with the Denver and Interurban Railway at the time the Electric Fountain in City Park was constructed. Perhaps that was his "day job" while he looked for more fountain commissions. At the time of the construction of the Garfield Park fountain in Indianapolis (1916) he was living in Chicago.
We hope to learn more about this fascinating visionary and artistic engineer as further research is conducted to connect him with the other "Electric Fountains" from that era.
Signature Designs
Darlington had several signature water feature elements in his fountain designs. The multiple spray rings with nozzle placement creating a "wheatsheaf" is one that shows up in photographs of several fountains. While this effect was invented in England, Darlington used it on a number of his fountains. The peacock "fan" is yet another water effect seen in several of Darlington's Electric Fountains.
The dynamically changing "chromatic" lighting effects (called "Prismatic" in the Denver fountain) that delighted observers during fountain shows are immortalized in many hand-colored post cards from installations across the country.
See Other Darlington Fountains for a list of the fountains discovered so far that are credited to Darlington, showing some of Darlington's signature features. The quoted text is from the web site linked at the top of each section.